Last week on the Brain Blog, we provided an overview of some common stigma around mental health. Internalized stigma, or self-stigma, can be damaging to an individual's self-esteem and has been found to interfere with recovery across multiple types of disorders (Livingston, Milne, Fang & Amari, 2012; Ociskova et al., 2018). One mode of reducing stigma is by providing education around the topics of stigma. In light of this, this week we will be reviewing some of the basics of mental health treatment strategies and professionals.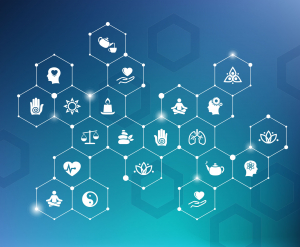 There are many kinds of mental health professionals, all of which require different degrees, specialties, licenses, and prescriber statuses. Social workers in the United States are licensed by the state and must have a degree accredited by the Council on Social Work Education (Online MSW Programs, 2020). Social work is "concerned with helping individuals, families, groups, and communities to enhance their individual and collective well-being," often relying on skill-building and community resources to problem solving.(Canadian Association of Social Work, 2020). Meanwhile, professional counselors receive training to become private practice therapists. Becoming a counselor also requires a Master's degree and clinical hours (Just Mind, 2020). Social workers and counselors can perform therapy, and neither can prescribe medication.
Degree and licensure requirements vary by state and country, but psychologists must have an advanced degree and satisfy license requirements for their region. There are many different fields of psychology a psychologist may practice such as clinical, forensic, industrial, and organizational (Gwynedd Mercy College, 2020). Unlike a psychologist, a psychiatrist is a medical doctor. Psychiatrists can prescribe medication and may practice therapy if they so choose. 
Mental health providers can employ several treatment modes or specialize in a variety of subfields. A few examples of talk therapies are Cognitive Behavioral Therapy (CBT), Dialectic Behavioral Therapy (DBT), and Humanistic forms of therapy. CBT is a skill-based therapy that looks to help patients unlearn or modify patterns of thinking and behaviors (American Psychological Association, 2020). CBT tends to focus on the patient's present thoughts and behaviors, as opposed to addressing their history (APA, 2020). Meanwhile, DBT is more psychosocially focused and centers around four modules, mindfulness, interpersonal effectiveness, distress tolerance, and emotional regulation (Grohol, 2020). Each of these therapies can be practiced in a group or individual setting and have been included  in workbooks and other resources are available for skill-building outside of the clinical practice. Humanistic therapy breaks into several subschools but is generally based on the belief that humans are inherently good and can be led to their maximum potential by examining their past and present thoughts, feelings, and experiences (CRC Health, 2020).
Talk therapies are not the only mode of treatment available. Therapy has proven to be more effective when combined with pharmacological treatments than as the sole form of treatment (Klerman, Dimascio, Weissman Prusoff & Paykel, 1974). Examples of common pharmacological treatments include selective serotonin reuptake inhibitors (SSRIs), monoamine oxidase inhibitors (MAOIs), tricyclic antidepressants, benzodiazepines, and barbiturates. 
An example of combining pharmacological treatment with other alternatives is the research of Dr. Basant Pradhan and Dr. Irving Wainer. Along with Ludmil Mitreva and Ruin Moaddellb, they have combined Dr. Pradhan's Trauma Interventions using Mindfulness Based Extinction and Re-consolidation of memories (TIMBER) in combination with ketamine to treat post-traumatic stress disorder (2018). Dr. Pradhan describes TIMBER as follows:  
"[TIMBER] is a novel, translational and biomarker informed Yoga and mindfulness based cognitive behavioral therapy (Pradhan, 2014) developed for wellness of providers and caregivers as well as to alter the expression of emotionally charged memories (such as traumatic memories, memories of depressive relapses, addiction related memories)."
When used in conjunction with a ketamine infusion, this treatment regimen "represents a valuable treatment option for refractory PTSD" as it reduces basal d-serine plasma concentration, a marker for PTSD severity (Pradhan et al., 2018). Pradhan and colleagues have also suggested transcranial stimulation as both an individual treatment for PTSD and as one tool to be used in conjunction with TIMBER and pharmacological treatments (Pradhan, D'Amico, Makani & Parikh, 2016).
Over the course of June we will review TIMBER and its associated research as part of PTSD Awareness month. If you are looking for tools for yourself or a loved one, HBSF's patient advocacy team can be reached at patientadvocacy@brainsciences.org for additional resources, while MHA offers a wide range of resources on their website.
Written by Senia Hardwick
American Psychological Association. (2020). What is cognitive behavioral therapy? Https://Www.Apa.Org. https://www.apa.org/ptsd-guideline/patients-and-families/cognitive-behavioral
Canadian Association of Social Work. (2020). What is social work? | canadian association of social workers. https://www.casw-acts.ca/en/what-social-work 
CRC Health. (2020). Humanistic therapy a humanistic approach to psychology | crc health group. http://www.crchealth.com/types-of-therapy/what-is-humanistic-therapy/
Grohol, J. M. (2016, May 17). An overview of dialectical behavior therapy. Psych Central. //psychcentral.com/lib/an-overview-of-dialectical-behavior-therapy/, //psychcentral.com/lib/an-overview-of-dialectical-behavior-therapy/
Gwynedd Mercy College. (2020). What is applied psychology? Top applied psychology careers. https://www.gmercyu.edu/academics/learn/what-is-applied-psychology
Just Mind. (2020). What is the difference between a therapist and psychologist? Just Mind. https://justmind.org/what-is-the-difference-between-a-therapist-and-psychologist/ 
Klerman, G. L., Dimascio, A., Weissman, M., Prusoff, B., & Paykel, E. S. (1974). Treatment of depression by drugs and psychotherapy. The American Journal of Psychiatry, 131(2), 186–191. https://doi.org/10.1176/ajp.131.2.186
Livingston, J. D., Milne, T., Fang, M. L., & Amari, E. (2012). The effectiveness of interventions for reducing stigma related to substance use disorders: A systematic review. Addiction (Abingdon, England), 107(1), 39–50. https://doi.org/10.1111/j.1360-0443.2011.03601.x
Ociskova, M., Prasko, J., Vrbova, K., Kasalova, P., Holubova, M., Grambal, A., & Machu, K. (2018). Self-stigma and treatment effectiveness in patients with anxiety disorders – a mediation analysis. Neuropsychiatric Disease and Treatment, 14, 383–392. https://doi.org/10.2147/NDT.S152208
Online MSW Programs. (2020). How to become a licensed clinical social worker(Lcsw). https://www.onlinemswprograms.com/careers/how-to-become-a-licensed-clinical-social-worker.html
Pradhan, B.K. (2014). Yoga and Mindfulness Based Cognitive Therapy: A Clinical Guide. Springer, Switzerland.
Pradhan, B., K., D'Amico, J., Makani, R., & Parikh, T. (2016). Nonconventional interventions for chronic post-traumatic stress disorder: Ketamine, repetitive trans-cranial magnetic stimulation (Rtms), and alternative approaches. Journal of Trauma & Dissociation, 17(1), 35–54. https://doi.org/10.1080/15299732.2015.1046101
Pradhan, B., Mitrev, L., Moaddell, R., & Wainer, I. W. (2018). D -serine is a potential biomarker for clinical response in treatment of post-traumatic stress disorder using (R , s)-ketamine infusion and timber psychotherapy: A pilot study. Biochimica et Biophysica Acta (BBA) – Proteins and Proteomics, 1866(7), 831–839. https://doi.org/10.1016/j.bbapap.2018.03.006