On December 7, 2019, our BRAIN MATTER(S) event will pay homage to the Foundation's research, celebrate the accomplishments of all those involved in our work, the dedication of our Fellows, many of which have been with us from the start, and give thanks to our supporters. People just like you! Join us for a memorable night; an interactive experience, exploring the brain and the potential for AI to make breakthroughs in the fight against neurodegenerative diseases. Scientists, doctors, professors, innovators, and tech enthusiasts, will come together to support our efforts and allow us to continue doing this important work.
Featured speakers will be announced in the coming weeks.
December 7, 2019
Lightbox
248 W 37th Street
New York, NY 10018
7PM – 10PM
Tickets: $300 Suggested Donation (tax deductible)
SPONSORSHIP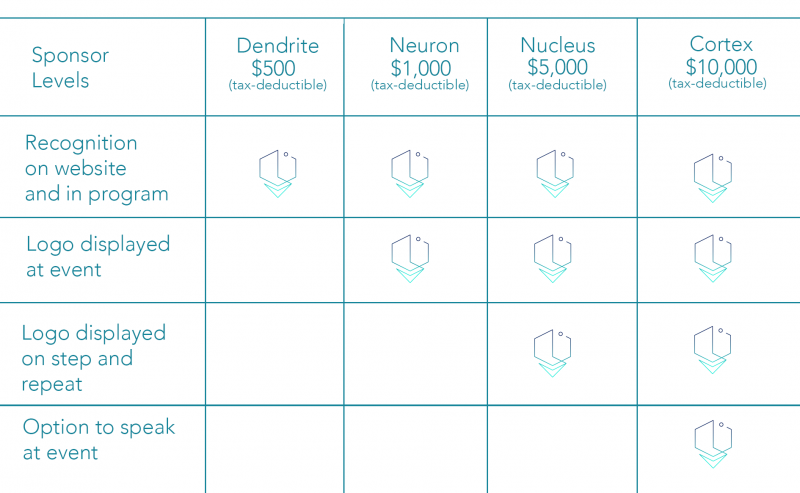 Email reem.hassan@brainsciences.org to discuss opportunities for sponsorship.
100% of proceeds go to research and projects
We focus on translating research into solutions that can be used right now. That is why we have devoted much of our work to exploring the potential technology can have in the medical field. It has become an integral part of our daily lives, and has made vast improvements in so many areas from the way we communicate, connecting us to loved ones in other countries instantly, to capturing memories that sit in our pockets, to tracking how many steps we take in a day and monitoring our blood pressure. Why not then utilize new technology like AI, push the limits, and use it to learn about and treat diseases!
We believe collaboration is KEY and is what sets us apart. Our partners include the University of Oxford, MIT, Georgetown University among others. We also pride ourselves on working across sectors; in the public sector and private. Working with industry leaders, startups, and entrepreneurs around the world. Why work within the narrow scope of a lab if we can share information and resources outside with other groups who are all looking to accomplish the same thing: to end neurodegeneration.
Empowering people to regain control and to be well informed; giving them the opportunity to equip themselves with the resources they need to feel confident about the choices they make regarding their own health or the well-being of loved ones. Most of the latest research in this area is written in scientific journals that are extremely difficult for the average person to read and understand. We are working to change that by writing reports on the state of these diseases annually in an approachable format accessible to anyone.
By 2030 1.2 million Americans are estimated to be living with Parkinson's Disease

More than 10 million people worldwide are living with PD

Direct & indirect costs associated with PD is about 52 billion per year in the US alone
Alzheimer's is the 6th leading cause of death in the United States

Alzheimer's & other dementia will cost the US $290 Billion in direct & indirect costs

Worldwide 50 million people have dementia, of which 60-70% of cases are Alzheimer's
THANK YOU TO ALL OUR SUPPORTERS
Dennis Muldrow
Arun Shukla
Pat Bonanno
David Johnson
Bernadette Bung
Adrew Sachs
Bassam Awwa
Patrick Sweeney
Douglas Stebbins
Vera Shulgina
Aamina Bawany
Sarah Price
Bettering the Future of Brain Health
Want to keep up to date on all our latest research and activities? Sign up for our newsletter!